News > SMART evidence on Net Positive Manufacturing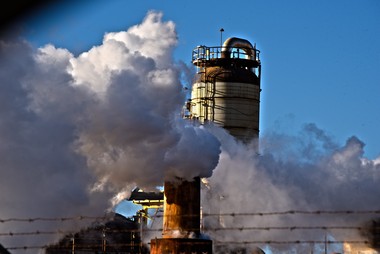 The 'My Science Inquiry' of the House of Commons Science and Technology Committee will hear evidence from Director of SMART Professor Shahin Rahimifard on Wednesday 1 February 2017. We invite you to watch on parliamentlive.tv and comment through social media - our Twitter handle is @centreforsmart
The text below is the Centre for SMART submission to the Committee which resulted in his invitation to give further evidence, and can be found here http://data.parliament.uk/writtenevidence/committeeevidence.svc/evidencedocument/science-and-technology-committee/my-science-inquiry/written/44882.html
Written evidence submitted by the Centre for SMART,
Loughborough University (MSI0065)
Is Net-Positive Manufacturing a realistic goal?
What is Net-Positive Manufacturing?
In today's consumer driven society, manufacturers can exert unparalleled environmental, economic and societal influence, either for good or bad. Net-positive manufacturing is not just about minimising these negative impacts but about re-structuring manufacturing so that all areas of society and the natural environment are demonstrably enhanced by the process.
Why is Net-Positive Manufacturing Important?
The UK population is projected to rise from just over 61 million to almost 72 million by 2033, creating significant challenges in terms of growing its economy without irreversibly damaging environmental resources and social equity. For example, there is a need for £110 billion of investment in new energy infrastructure to support the transition to a low carbon economy, £20 billion to maintain and improve water supply and £15 billion to divert waste from landfill and generate more energy from waste. These challenges cannot be met by relying on future technology gains and government intervention - it is essential the manufacturers themselves are supported in taking the baton and becoming a force for net-positive development, across their societal, economic and environmental dependencies.
Is Net-Positive Manufacturing achievable and, if so, when?
Forum of the Future, WWF-UK, and the Climate Group have published a 12 step guide in the form of managerial guiding principles for businesses to become Net-Positive[i]. However, we believe that there is urgent need for the investigation of what the science is behind Net-Positive Manufacturing and what technological and engineering challenges need to be overcome to achieve it? And, more importantly, how new learning from such a science and technology study could inform policy interventions to encourage net-positive thinking across strategic, tactical and operational levels within manufacturing.
January 2017
---
[i] https://www.forumforthefuture.org/media-centre/%E2%80%98net-positive%E2%80%99-approach-key-future-business-success accessed 04/01/2017