Robots & Food: A Match Made in Heaven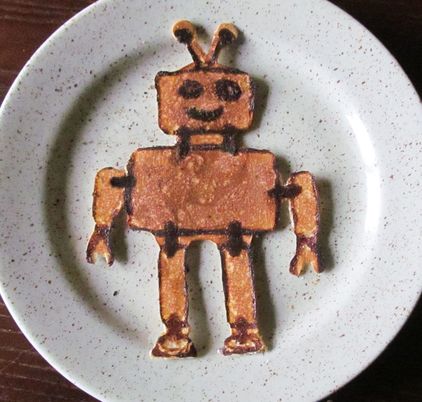 Robots & Food: A Match Made in Heaven
We cannot deny that technology has become the new normal. Humans have integrated technology into every aspect of their lives in the search for the most convenient lifestyle. The current wave of technology sees the introduction of robots into routine, daily aspects of a person's life. The best one? Robots making our Food! The food industry recently saw a boost in the number of robots working in kitchens, cafés and bars, aiming to serve customers high quality products. Here we explore the top 5 edibles perfected by robots.
Flippy the Burger Flipping Robot
At Caliburger in California (US), Flippy can be found at the grill flipping burger patties, adding cheese and toasting buns. Its highly advanced sensors allow Flippy to tell exactly when a burger patty is ready to be placed in a bun. A mere human must add on your toppings and sauces, but don't worry as Flippy's creators, Miso Robotics, are working on giving Flippy more responsibilities. [1]
Sally the Salad Robot
Tired of waiting in the salad bar line at your dorm or office cafeteria? Sally the Salad Robot can handle that for you! Sally is a table top robot, designed by robotics company Chowbotics in the US to churn out a salad in 60 secs depending on the consumer's choice! Its ability to manage a variety of 21 different ingredients allows for thousands of different combinations. [2]
Zume Pizza
If you're ordering a pizza from Zume Pizza in San Jose (US), it is guaranteed that every bite will have the exact amount of tomato sauce, all thanks to a delta robot (i.e. a robot hanging from the ceiling!) evenly distributing it onto the dough. After human employees place the chosen toppings, another robot will transport it to the oven. Zume's kitchen aims to employ more robots to work alongside humans to create the perfect pizza of the future! [3]
Koya & Kona the Ramen Slinging Robots
What's better than eating authentic ramen in China? It being made in 90 seconds by robots of course! At the Toyako Robot Ramen restaurant, you can order the braised pork ramen and watch through the glass panels as two robot arms, Koya and Kona, boil the noodles, drain them and then assemble your dish with the other pre-cooked ingredients. [4]
The Bionic Bar
If you find yourself on one of Royal Caribbean's 'Quantum of the Seas' class cruise ships and craving a drink, you can head down to their Bionic Bar, order yourself a great-tasting cocktail and receive it in under a minute from a robot! The bar employs two robotic arms, B1-O and N1-C, who mix the drinks with millimeter precision according to your selected or custom order! [5]
Pay close attention to your favorite local café, restaurant or bar; you might just have a run-in with a food whizzing robot!
Bonus: Moley the Robotic Kitchen
If you're a very busy individual who finds very little time to spend in the kitchen, struggle no more because in 2018 you can own your very own Robotic Kitchen. Moley Robotics in London (UK) designed the Moley Chef Robot to make any meal chosen from an iTunes style based database or it can even be taught to follow steps from a recipe of your own. Its safety features allow users to set it up to prepare food while they are sleeping or on their way home from work. [6]
References:
[1] Misorobotics.com. (2017). Miso Robotics. [online] Available at: http://www.misorobotics.com/ [Accessed 22 Dec. 2017].
[2] Chowbotics. (2017). Chowbotics - Robots for Food Service. [online] Available at: http://www.chowbotics.com/ [Accessed 22 Dec. 2017].
[3] Zaleski, O. (2016). Inside Silicon Valley's Robot Pizzeria. [online] Bloomberg.com. Available at: https://www.bloomberg.com/news/articles/2016-06-24/inside-silicon-valley-s-robot-pizzeria [Accessed 22 Dec. 2017].
[4] Filloon, W. (2016). Watch Ramen-Slinging Robots Prepare Bowls in Just 90 Seconds. [online] Eater. Available at: https://www.eater.com/2016/1/14/10769000/ramen-robots-video-china [Accessed 22 Dec. 2017].
[5] Makr Shakr. (2017). The World's First Robotic Bar System. [online] Available at: http://www.makrshakr.com/ [Accessed 22 Dec. 2017].
[6] Moley.com. (2017). Moley – The world's first robotic kitchen. [online] Available at: http://www.moley.com/ [Accessed 22 Dec. 2017].