News > Centre for Innovative Manufacturing in Industrial Sustainability 3rd Annual conference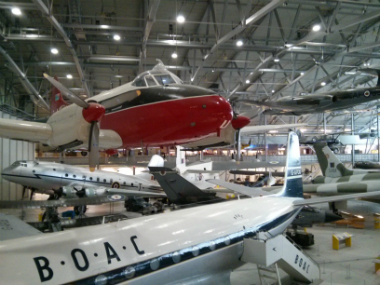 The Centre for SMART was proud to participate in the 3rd Annual conference for the EPSRC Centre for Innovative Manufacturing in Industrial Sustainability, held at Duxford Imperial War Museum and Cambridge University's Murray Edwards college.
The conference provided a chance to hear how leading companies have made effective sustainable changes, learn from case studies about the practical applications of sustainability research in businesses and gain insights into the future of sustainable manufacturing.
Speakers at the conference included: Toyota, William Jackson Foods, IntelliSense.io, Riversimple, M&S, Ecopare, Extremis Technology, Airbus and General Motors, they all gave interesting insights into their businesses and their views on sustainability.
SMART members put together an impressive exhibition of current project work and engaging and interactive displays. Three of our researchers also gave presentations to the conference delegates on topics including robotic disassembly of hybrid vehicle components, Eco-intelligent manufacturing and resource efficiency.
The conference venue was as unique and inspiring as the presentations and exhibits on offer, held at the Imperial War Museum at Duxford; a perfect location for stimulating interesting and lively debates about a wide range of manufacturing topics and for enabling sucessful cross-disciplinary networking.
Overall the conference was a huge sucess and The Centre for SMART looks forward to participating again in 2015.